High Pressure Compact Safety Valve – EPV 01
The basic version of the EPV 01 High Pressure Compact Safety Valve is delivered with male screwed inlet and female screwed outlet, gastight bonnet and cap.
0.40 bar g up to 400 bar g
Benefits and features
The compact spring-loaded safety valve is made of stainless steel (1.4571) for high chemical resistance. It is also available with bellows to balance back pressure and for high tightness to the outside, even at higher back pressures.
The safety valve has a variety of connections and is wear resistant with hard-faced seat.
The valve EPV 0329 for pressure protection (vapours, gases and liquids) is used in the chemical and petrochemical industry, for industrial gases, cooling and oxygen applications, equipment engineering and chemical reactors, also suitable for mobile pressure vessels and for back pressures above 60 bar g.
EPV 0321 compact
safety valve with flange connection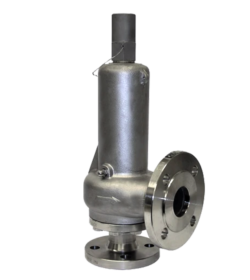 One of our smallest compact
safety valves  EPV 01