EPV 8 Size D-T according to API 526
The EPV 8 Safety Valve type fully meets the specification of API 526 and is manufactured in accordance with ASME Code Sec. VIII.
Benefits and features
The EPV 8 series is also approved by EC type examination and can be CE marked.
The one-trim design makes the valve suitable for gas, vapour and liquids.
The valve has a positive lift stop at full capacity. The disc bearing has been optimized for high seat tightness.
The nozzle ring is always set to lowest position because the valve is designed to operate at optimum without ring adjustment.
Maintenance is easy due to a one-part spindle, a simplified disc retention clip and the rugged guide design.
Suitable for applications in the chemical and petrochemical industries, closed systems, oil/gas – onshore and offshore, refineries and tank farms as well as nuclear facilities according to ASME Sec. III.
Upon request the fulfillment of NACE MR 0175 and NACE MR 0103 requirement is available.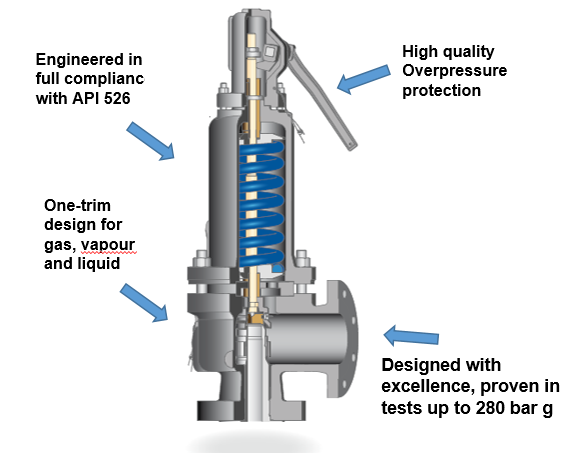 Explosion view of API valve
shows inner and outer parts.
API valve group with different sizes
individually adjusted to specification.